Set up an online fundraising page
Setting up an online giving page is an easy way to fundraise for your event or challenge, as it allows people to quickly and easily donate to your cause and all donations that are made through your page will come directly to us. Our preferred online giving platform is JustGiving, however please feel free to use whichever platform you feel most comfortable with. To create your own customisable page and to set your fundraising target using JustGiving, simply click on the link below: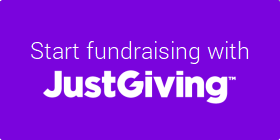 We've listed some tips below to help you get the most from your fundraising page:
Personalise your page – show everyone how much effort you're putting into your fundraising – include pictures or videos and details of your training plan if applicable.
Share some facts about how your sponsorship is helping people affected by Waldenstroms macroglobulinaemia (WM), as well as personal reasons you may have for fundraising. People are more likely to donate if they know what a difference their money will make.
Spread the word – tell everyone you know! Email friends, family and colleagues the link to your fundraising page so it's easy for people to sponsor you. Share your page on Facebook and Twitter and don't forget to tag WMUK in your posts, so that we can share your fundraising efforts even further!
Sponsorship forms
If you would prefer to collect cash donations and would like a paper sponsorship form, please contact us on 020 3096 7858 or email info@wmuk.org.uk and we'll be happy to help.
What to do after your event
Congratulations – all the hard work is over and you can now relax, but just before you do that, here are a couple of things to do, to make sure you really make the most out of your event:
Say thanks – make sure to thank everyone who was involved and let them know how much you've raised – they'll really appreciate it. A surprising number of donations are received after the event has finished, so thanking everybody could prompt anyone who still hasn't donated to do so.
Let us know how it went – how did your fundraising go? We'd love to hear from you, so don't forget to send us your photos and stories – that way we can share your amazing efforts and help inspire others!
Pay in your money – if you have set up a JustGiving page you don't need to do anything. JustGiving sends us the money that people have donated online.
If you have collected money from your supporters through your own organised or sponsored event, you'll need to pay this into your own bank account and then arrange to make a payment from your bank account directly to WMUK. You can do this either by bank transfer or by cheque. Further details on how to arrange this can be found here. Please remember to quote your name as the reference when making the transfer. It would also be helpful if you could let us know you have made a payment as this helps us to identify your donation and to personally thank you for your support.